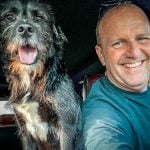 David Leibundguth, Unlicensed Assistant
A little bit about me...
859-583-3223 call or text me...
After 35 years, in multiple disciplines of the construction industry, around the United States and in many inland waterways, I have retired from building.
My new path, leads me to getting further connected with the best crew of people I ever have had the pleasure to work with and begin life in the world of real estate with the Bluegrass Team.
Through the years I have received great joy in beautifying someone's home to meet their needs, building new homes with all the right details the customer desired, working on losses and insurance claims easing the distress of homeowners…helping real estate investors stay within their budgets to maintain their properties.
Also within those 35 years, I completed commercial fit ups for start ups, commercial repairs from small mom and pop retail storefronts to corporate anchor stores in shopping malls and dove as an underwater welder and commercial ship hull inspector.
Through all that, the most satisfaction I ever had the pleasure of receiving, were the looks on people's faces and the ooo's and ahhh's I would hear when we completed a job and improved their property. The house may be the most expensive thing a person or family owns…I respect the money being spent by them and I provide a product they will be proud of. I take very seriously, the invitation to be part of that home…regardless of the level of improvements made or time spent. This philosophy I now take into the business of real estate with the Bluegrass Team…helping you find your home. Your investment property. Your farm. Your vacation home. Your commercial property.
Great decisions require great people. The Bluegrass Team are these people. Regardless of which Bluegrass Team member you choose or what property you want to see anywhere in Kentucky, you will be given the best service bar none. Purchase through them…list through them. The Bluegrass Team Machine is rockin' and ready so you can rest easy when you're ready.
And now for some corny stuff: I love, love, love dogs. I love my wife…married 31 years. I love cooking. The darker and more bready a beer the better it is.
Born and raised in Connecticut…moved to Kentucky in 1989. My home was built in 1850.
I started, funded, and ran a homeless shelter for 12 years. I hope to see the Italian alps one day.