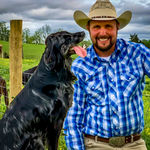 Jeromey Weinert, Lifestyle Property Specialist
A little bit about me...
call or text Jeromey - he knows this property well 606-748-0553 Bluegrass Team EXP Realty
Hunting Land, Ranches, Farms + Recreational Property for Sale. Bluegrass Team is made up of the industry's finest land managers + market analysts.
Hi! My name is Jeromey Weinert. I'm originally from MI. At 18 I left my childhood home and pursued a career in the Army. While serving with 3-17 Cav out of Ft Drum, NY, I met my wife, Lisa, and in 2008 our journey led us to Savannah, Georgia. where I served with the 3rd Infantry Division. I departed the Military in 2011. Upon leaving the Army, I completed my education by obtaining a bachelor's degree in business management. My wife and I spent 10+ years building companies and advancing our business experience. We left Georgia in 2021 to become Farmers in the great state of Kentucky. We have two beautiful daughters that we are excited about raising here in the wonderful community of Flemingsburg, KY. I love helping people, growing as a professional business owner, as well as a Real Estate Agent/ Investor, building new homes from start to finish, and helping people find their dream home - where you can create lasting memories.

Jeromey Weinert call or text me - 606-748-0553
Welcome to Eastern Kentucky Real Estate!
At Bluegrass Team EXP Realty, Eastern Kentucky Real Estate is a reality for you and your family. We understand the importance of finding your perfect home in this beautiful region. Whether you're looking for a cozy cabin nestled in the mountains or a modern house in a bustling town, we've got you covered. Our experienced team of real estate professionals is dedicated to helping you navigate the local market and find your dream property. We have Land with
houses, cabins, mountains, and towns.
Here are some of the features and services you can expect on our website:
1. Property Listings: Browse through our extensive collection of property listings in Eastern Kentucky. Our website provides detailed information about each property, including price, location, size, and features. You can easily filter your search based on your preferences, such as the number of acres, bedrooms, bathrooms, and price range.
2. Featured Properties: Check out our hand-picked selection of featured properties that represent the best of Eastern Kentucky real estate and lifestyle properties. These properties showcase unique characteristics, exceptional views, or outstanding value - sometimes all of the above. 🙂
3. Advanced Search: Utilize our advanced search tool to narrow down your options and find properties that meet your specific criteria. You can search by location, property type, price range, and various other features to ensure you find exactly what you're looking for.
4. Local Area Information: Learn more about the different towns and communities in Eastern Kentucky. Our Bluegrass Team website provides valuable information about schools, amenities, recreational activities, and local attractions. This will help you get a better sense of the area and decide which neighborhood suits your lifestyle.
5. Buying and Selling Resources: We offer a range of resources and guides to assist you throughout the buying or selling process. Whether you're a first-time homebuyer or an experienced investor, our website provides helpful tips, market trends, and advice to make informed decisions.
6. Financing Options: Explore different financing options available for purchasing a property in Eastern Kentucky. We provide information on mortgage lenders, loan programs, and pre-approval processes to simplify your home-buying4 journey.
7. Contact Us: Have questions or need assistance? Our website features a HomeFinder form for you to fill out - and our team's contact details. Feel free to reach out to anyone of us on the Team, and we'll be more than happy to help you with your Kentucky homes and land, Lifestyle Properties and all Kentucky real estate needs.
Discover the beauty and charm of Eastern Kentucky with Jeromy Weinert at Bluegrass Team EXP Realty Real Estate. Start your search today and let us guide you on your journey to finding your perfect home in this remarkable region.
Bluegrass Team provides the best land specialists in the industry for buyers and sellers of rural land and lifestyle property and lifestyle farm specialist.
land for sale,off-grid living,amish farm,off-grid homes,ranch land for sale,brad simmons,brad simmons kentucky real estate,brad simmons lifestyle,amish paradise,farm land for sale near me,land for sale in kentucky,land for sale in tennessee,housing market,land flipping,preparedness,sell my house fast,homesteading,homestead,home + land for sale kentucky,farm land for sale,weekend retreat,country living,real estate,prepper,doug and stacy,land for sale in eastern kentucky,
small farms for sale in eastern ky,
homes for sale in eastern kentucky with acreage,
multiple listings service,