2 OPEN Houses in a GREAT neighborhood – and the real deal, low and slow BBQ – the best part? The BBQ is on us!
Sun Feb 19, 2017 from 2-4pm
2 houses in a neighborhood you'll fall in love with – just a couple miles to Centre College, shopping, downtown restaurants, wine shop, bourbon bar, Art Center, Library, etc
Do you like real, low and slow BBQ as much as we do?
Well, come by and join us at our BBQ Open House this coming Sunday Feb 19, 2017 from 2:00-4:00 p.m. and get some free BBQ!!!.
We have a real BBQ dude scheduled to make some great smoked meats for all our guests – assuming the neighbors don't get it all first!  🙂
BOTH houses are in the 160-180k range – so the prices are great, the neighborhood is great AND schools are great.
If these houses are still available, they are here –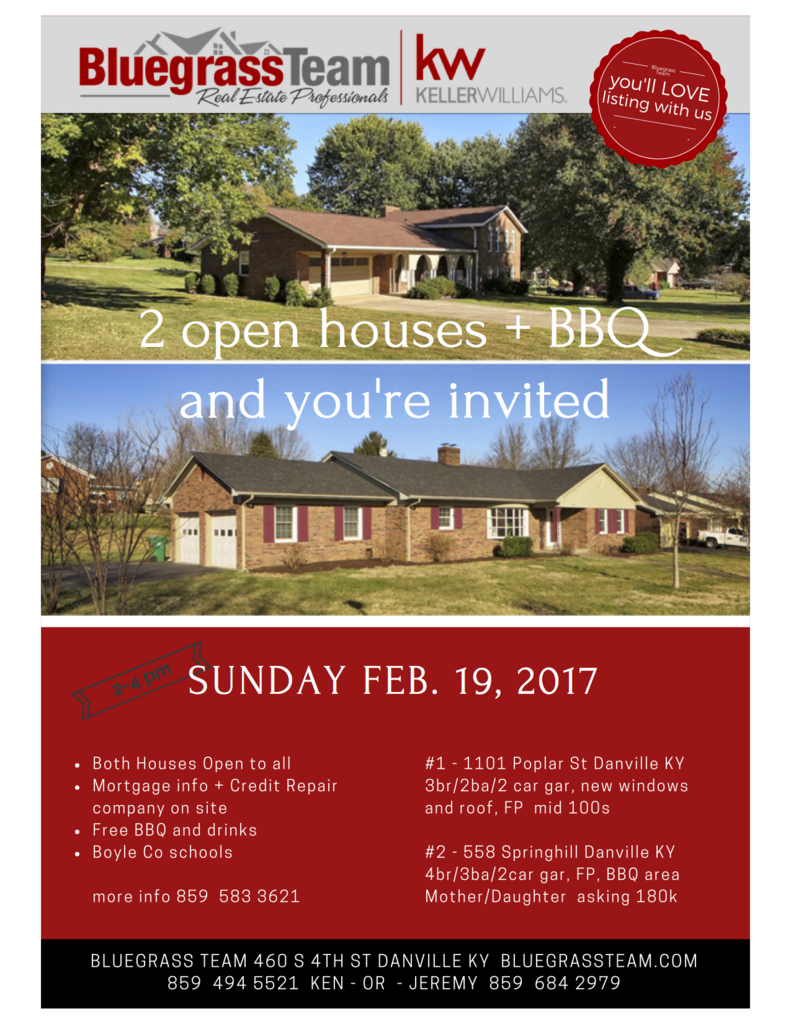 There are TWO houses and a number of reasons why we like these new listings that we just got at 558 Springhill and 1101 Poplar –
For starters, the neighborhood! not a through street, so you can walk the dogs, stroll with the kiddos or your friends or your honey – walk to the Community pool – and only 2.3 mi to Centre College, Main St, wine shop, restaurants, etc.
I have pics and VIDEO for: 558 Springhill is huge – need room to stretch? Or for large families with kids, you'll love it. Heck, you can even bring the in-laws downstairs too – separate entrance, living room, bath, bedroom, etc. There's also a large patio area just off the family room tImagehat leads to a large grassy yard and BBQ area.
I do not have any pics yet for: 1101 Poplar. It has a fireplace, 3 season room, new roof and windows – and is single floor living, for lots of folks, this is important. It even comes with a brand new home warranty! NOT EVEN on the Market yet! Be the 1st to see this h
BOTH houses have Fireplaces!
I'm excited to have these two homes OPEN this coming Sunday Feb 19, 2017 at 2:00-4:00 p.m.  So please come by, tell your neighbors and More importantly ….. come by hungry!!!
Talk to you soon!  call or text Ken 
859-494-5521
go to "Your Perfect Property" at  https://bluegrassteam.com/homefinder/ – it only takes a few seconds to fill out your needs and wants and we will start sending you properties that meet YOUR criteria.
You'll be 1st to know about properties – It's like a sneak peek – before they hit the market – sent right to your inbox.