Top 9 Things You MUST Know BEFORE Buying a Home, Land or Farm – How to Save a Ton of Money AND Heartache – GUARANTEED.
This will sincerely save you a ton of money — if you follow it.  This is some solid advice from a guy who's stubbed his toe a time or two and had successes a time or two – for more than 30 years.  "I can assure you, as always, I will do the right thing for you and your family – and help you in anyway with your move to Kentucky.   We are a Full-Time, Full Service, Top-Producing, Award-Winning (for a reason)  BluegrassTeam EXP Realty.   www.BluegrassTeam.com  call or text:  859-379-LAND (5263).  859-494-5521 Ken's cell

Before we start, I just want to go over the process:
a – Make an appointment days ahead of time – so we can line up as many properties that fit your criteria.  Many people just pop in and say, 'we're here'.  Most times, we have no one to help.  We want this to be a stellar experience for you.
b – we will save you money – we know real estate inside and out. Did you know a huge number os real estate agents either rent their own house – and/or rent space for their office.  WHAH???  — and we ALL own residential and commercial real estate.  We eat our own cookin'.
c – it doesn't matter who's sign is out front, we want to help you.  If you call the other agent, we are cut out of the deal.  The seller pays the commission – not the buyer.  the work we do for you, the negotiation we do for you, the connections to the correct lender – all of this, doesn't cost you a dime.
d – Do business with someone you know (us), like (us I hope hahaha) and trust (us).  Bluegrass Team.  Results.  Period.  ok, let's get to the meat of this article.
#1 SURVEY –
Walk the Land! – the sellers will usually be willing to re-pin or update their survey for you.  Your competent real estate agent needs to be willing to put that in your offer.  This is the seller's land, the seller's survey – and if the deal falls out, it is theirs to keep.  If you use our Agents, they know this – and will negotiate that properly, so you don't have to pay for it.
I've mentioned it to you in the past as a potential cost in the land-buying process. When you look at property boundaries on a survey – in the real estate business, often called a plat, it won't be immediately evident how those boundaries line up with the land itself. That's where surveying comes in. Professional Licensed Surveyors research your property and use a plat to determine and mark the exact property boundaries of your vacant lot. When you look into buying a piece of property, it's possible a survey has NOT been done recently.  The evidence of a survey should be visible on the property with markers identifying the corner boundaries – usually by pink or red ribbons – but do know cows LOVE those pink ribbons and they will likely be gone.     Under those pink ribbons on the ground is usually a 24-inch long piece of 1/2" rebar with an Aluminum cap on it – with the Professional Surveyor's license number.  Some land (usually in larger tracts) is sold "By Boundary". That is fine for shopping around, but would you really want to buy that way?  I did buy a farm like that one time (note one time) – it was "a 186 acres farm" – after the survey I had less than 169 acres. I wasn't buying by the acre, so my costs just went up significantly – about 10% – I loved the property and I bought it anyway – and I made plenty of money on it later, but that was an oops – so you have to weigh that out.  What was the discrepancy?  The public road – the road came in and changed their right of way and "took" that extra 20 acres (which the seller got paid for). The survey was so old, it had courses in the legal description that read; "a point of beginning at the 30" Oak tree, thence, a stone's throw to the 24" Sycamore tree".   True story.
Getting a new survey will clearly define your property line — quite important when you delve into legal matters like fences, buildings and easements.  And surveys can serve purposes beyond plotting out property boundaries.  For example, a construction survey can help you make precise elevation determinations and plan out the dimensions of a house. The cost of a survey will hinge on a number of factors: the size of your property, the amount of time it takes to complete the survey and how much research the surveyor has to do to with plats. And, of course, the type of survey will impact the cost. While a floodplain survey could end up costing you more, few things could wreck your building plans like being caught unaware in a flood zone.  If you are near a creek or stream or river – have your surveyor include Flood plain information as well. Talk to a competent real estate agent about this – he or she — if they are competent in farm and land sales will know all about this and help guide you in the right direction.
#2 REAL ESTATE TAXES –
Are your property taxes rolled into your monthly mortgage payment – often referred to as "escrowed"?  Or will you be responsible for paying them yearly? Don't forget to keep the paperwork for your annual state and federal income tax return. You can often deduct the property taxes, points and interest paid on a mortgage. Set up a consultation with a competent tax accountant to learn more about the restrictions on these types of deductions.  Also, don't assume the Tax man knows where you live if you are an absentee owner. The Deed shows who owns the property – and your current address – but what is you live out of state?  The deed shows it, but the Tax Assessor doesn't look at that – they only look at the address of the property and will send the tax bill to the address of the land – or to the old owner (the seller you bought the land from). Not good if you want to make sure the taxes are up to date.  In Kentucky, the tax bills are sent out in late October – early November.  If you don't get your tax bill by Thanksgiving, you need to call your Tax Assessor – or competent real estate agent.  They can implement the address change and make sure you get your tax bills in the future to avoid penalties, fine and the dreaded Tax Lien auctioned off – that gets real costly.  Pay your taxes early – they are super-cheap in Kentucky.
#3 GET IT ALL IN WRITING, IN YOUR OFFER –
By far one of the best ways to protect yourself is to have every part of the sale in writing, and make sure you understand every aspect before signing – "Verbal Agreements", although legal, can be a bear to prove and litigate. Legal jargon and real estate terminology can be confusing and somewhat frustrating, so brush up on your real estate vocabulary before farm and house hunting, and don't be afraid to ask a lot of questions along the way.  A competent real estate agent who specializes in Farms and Homes with Land can help you every step of the way.  Your agent will also almost always have a list of competent Attorneys they've worked with for decades, who they can recommend.
#4 WHAT DOES IT MEAN TO GET PRE-APPROVAL – AND SHOULD I GET PRE-APPROVED?
YES! – this is huge – and much more efficient for everyone.  For serious home shoppers, "the No. 1 thing is they better have everything in order," says Dick Gaylord, past president of the National Association of Realtors. That means that, before the real home shopping begins, you want to get financing in place, he says. And the preapproval process is "much more extensive" than it was a few years ago, he says. Bott agrees. "That documentation around income and assets is very essential, more so than in the last five years," she says. Improve your chances by: getting financing in place "before you walk through the first house," Gaylord says. Otherwise, he says, "How do you know how much you can afford?" You know what to look for, what you can afford and more leverage in your offers. "Ms Seller, my client is pre-approved for this mortgage". You give the mortgage broker or bank all the information about your finances so they have all the information (except for the actual property numbers that you'll be buying). Then the lender says, "OK, we'd be willing to lend you up to this amount." That's a real number to work with – and then you have a LOT more leverage when making an offer.  We of course will help you all the way. There are various rules of thumb – that will help you get an idea of how much home you can afford.  If you're using FHA financing, almost one-fifth of all buyers get FHA-insured loans, your home payment can't exceed 31% of your monthly income. Example, if you and your spouse have a combined monthly income of $3,000. Roughly, you can look up to $1,000/mo for a mortgage payment.  Your mortgage broker here in Kentucky can help you with this.  We know the good ones for land.
#5 STRENGTHEN YOUR CREDIT SCORE –
The credit world has changed quite a bit in the last 10 years, but one old rule still applies: The higher your credit score, the lower your down payment, interest rates and monthly payments will be.  In fact, a higher credit score even lowers your insurance rates.  The higher the score the more you will save.  Below 640 or 660, you're either going to have to pay sizable fees or a higher down payment.  And that's also pretty much the cutoff score to get a mortgage these days. Vicki Bott, deputy assistant secretary for single-family housing at the Department of Housing and Urban Development, says that her office has noticed much the same thing. "While there are many qualified borrowers in the 580 range, the market today is looking for 640 to 660, at a minimum," Bott says.  On the other end of the credit score spectrum, a score of 700 to 720 will get you a great rate and mortgage deal and 750 and above will get you the best rates on the market.  Improve your chances by pulling your credit reports and ensuring you're not being unfairly penalized for old, paid or settled debts. If you are, research how to change that – often we have a credit repair company we work closely with to help get you the best rate on your next mortgage.  STOP applying for ANY new credit a year before you apply for financing. And keep that moratorium in place until after you close on your home or farm. MANY times we have had a closing blow up at the end because the person went and got furniture for their new home – on credit – just a week before they bought. Wait till after you close before doing ANYTHING with credit – don't apply for anything – not even a gas card.
#6 CHECK OUT THE NEIGHBORHOOD –
Be sure the neighborhood, and not just the house, meets your expectations. They say that you should own the smallest home in the nicest neighborhood that you can afford.  You'll have a great view! Drive around on weekdays and weekends, during the day and in the evening.  Are homes in the neighborhood consistent in size and features?  Do the neighbors keep the yards clean and tidy or are there old cars and trash around?  Is the neighborhood safe enough for people to walk, run, or bike and are there children playing in the yards?  Talk to the neighbors.
#7 GET A FIXED RATE MORTGAGE –
Fixed-rates mortgages limit risks – It's worth knowing about adjustable-rate mortgages, but when in doubt, go with a fixed-rate mortgage. Over time, mortgage rates have varied – lock them in now. Assuming you can afford the payments when you sign up for the mortgage, why take the risk that rates might rise to a level you can't afford?
#8 SMELL THE ROSES – AND MORE
When you are looking at this property, do you smell sewage, sewer gas, or anything equally unpleasant? Sewage systems in older homes can sometimes get clogged or damaged by tree roots – or are just full and just need to be pumped.  Luckily, some sewer or plumbing companies can send a camera through the pipes to detect any breaks or blockages.
#8-B  HOME INSPECTION –
It almost goes without say (so I didn't want to give it its own number), but it is so important you know what you're getting before you get it.
When you choose an inspector, you're selecting a licensed professional who will give one of your biggest investments a full physical checkup.  You also need to GO on this inspection – people can see what the inspector is looking at — AND if the inspector is a good one, they will tell you what is a big deal and what isn't — or approximately how much it will cost to repair an issue.  Ungrounded plugs will show up on an inspection – and they are only the cost of a service call to fix – $50 should not be a deal killer on a $250,000 house.  J
Don't go with the cheapest home inspector – a home inspection is typically less than an appraisal – and well worth your time and money.
#9 BE CAREFUL WHEN SELECTING A REAL ESTATE AGENT –
Would you go a part-time surgeon?  Only use a Full-Time, competent Real Estate Agent.  According to the NAR – National Association of Realtors – only 27% of Realtors are full-time. SERIOUSLY?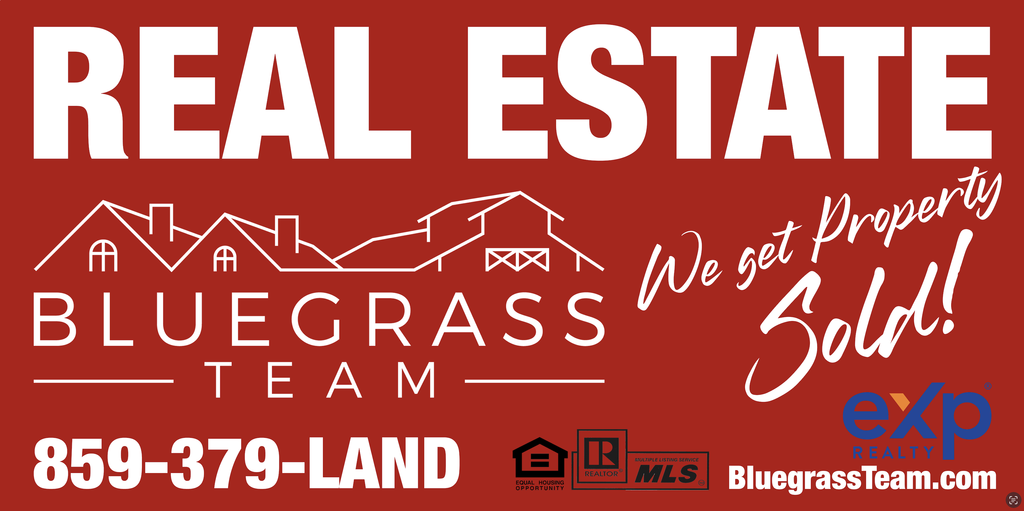 You don't get one agent with us – you get a whole team working for you.  Find out how many homes they have sold the last couple of years – and how much time they can devote to the marketing of your property.  Are you looking for a competent Real Estate Agent Team in Kentucky?  We are a Full time, Full Service, Top Producing, Award-Winning (for a reason) Bluegrass Team. www.BluegrassTeam.com
859-379-LAND (5263) or 859-494-5521 Ken on his cell.
Ken Garcia is a multi-award-winning, RE/MAX Platinum Club recipient, EXP Realty prestigious ICON Award Winner year after year!  This means we have massive experience to ride the wavy times – better than others.