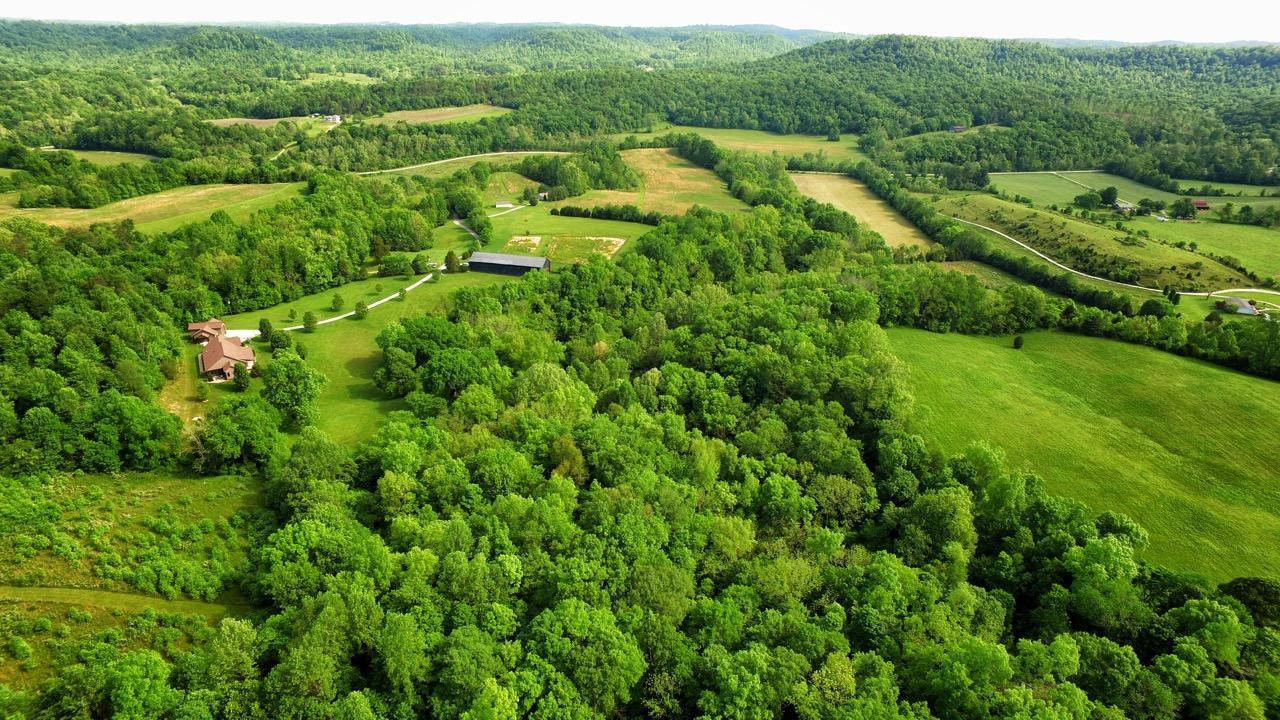 Artist Retreat and Wildlife Preserve for sale in Kentucky – This Spotless property can be used for many different interests; use it as an Executive Getaway, a near-perfect 160± acre Nature Preserve, bug out location, or horse property in Kentucky. Like-new Custom designed prepper-type compound with LIVE WATER (you own part of the North Rolling Fork River!), ponds, a natural spring, and a 2 acre fenced garden. One of the most important parts of this special property – it has multiple living spaces. The main house, a 3 BR, 2 BA guest house that is 1188 sf with a 2 y.o. roof and new insulated siding, and another 2 car oversized garage.  The 3rd living space is an efficiency apartment attached to an RV garage.  The main house and guest house have a Generator Box; plug in your generator, throw the switch and you are off the electric grid if you want to be or ever need to be — you've got power.  The main house also features a Safe Room/Shelter and a  hidden bonus space.  You will want to see this property in person – call or text Ken 859-494-5521 and tell him you want to see it in the 6-seater UTV we have for clients.
Surrounded by private farm land all around, this retreat is also equipped with Security Gates and driveway alarms – but you're not remote. This survivalist type property falls within the Boyle County school district. This is a world-class compound / operation that is turn-key.
The house would have AMAZING (see the photos again) curb appeal — if it wasn't 2250' off the main road. 🙂 It has a beautifully landscaped front, side and back yard that is a few acres all told. The screened veranda (see photos) overlooking a beautifully landscaped garden is home to lots of wildlife (see the deer photo when I was taking pics there).  The Luxurious gourmet kitchen has all Stainless Steel appliances, a stone Fireplace in the vaulted ceiling Great Room, inlaid cherry in the foyer, a 1200± sf RV garage / workshop, and a 132'± full-on barn for just about anything you would need a barn for.
2nd highest point in Boyle County, the nature trails take you all the way up your very own mountain – from there, you will enjoy Panoramic views of miles of land and sky. This is your private sanctuary 13 miles / 20 minutes from our College Town, Hobby Lobby, TJ Maxx, restaurants, Regional Medical Center, etc (told you you weren't remote) 🙂
Looking for a getaway, a bug out property, a horse property with live water (imagine never having to water the horses again), a Prepper property? A Survivalist property? Or 'just' a showcase of a showplace — you will want to see this property in person – call or text Ken 859-494-5521 and tell him you want to see it in the 6-seater UTV we have for clients.
More pics and VIDEO coming soon! But you'll want to call now – before it goes to the general public on the MLS.
Executive getaway, Bug out property, Artist retreat, River, ponds, live water, Survivalism, Preppers, prepper paradise, Bug Out, survivalist, apocalyptic, prepper talk, preparedness, WROL, nwo, preparation, shtf, metal building, nature preserve, nature preserve for sale, wildlife preserve for sale, bug out property for sale, bug out property shtf, horse property for sale in kentucky, cattle land for sale in kentucky, best real estate agent in kentucky, land for sale in Kentucky, top immobilienmakler in kentucky, agente de bienes raíces en kentucky
go to "Your Perfect Property" at  https://bluegrassteam.com/homefinder/ – it only takes a few seconds to fill out your needs and wants and we will start sending you properties that meet YOUR criteria.
You'll be 1st to know about properties – It's like a sneak peek – before they hit the market – sent right to your inbox.