Etruscan Pork recipe – supposedly one of the oldest written recipes known to man… who knows? who cares?
Braising pork shoulder or Bone-in Boston Butt (yes its the butt end of the shoulder – not what you are thinking!) will make a fall-apart tender roast of mouth watering goodness. And when milk is the braising liquid, what results is a sauce that will be lore like pork flavored Ricotta.  You in now?  Join me now to make Etruscan Pork – supposedly one of the oldest written recipes known to man… who knows?  who cares?  This is a WINNER for DINNER.
Ingredients:
1 – pork butt / bone in Boston Butt
1 – bunch – or a couple handsful of fresh sage leaves – an uncomfortable amount (I've never done it with dried, but you could)
Enough whole milk to cover meat – and play with that – some recipes I read are like a cup and a half.  We use half a gallon at least.
Zest of one Lemon from a lemon and a microplane – the lemon will curdle the milk – and you are making cheese!
Plenty of salt and pepper to your taste.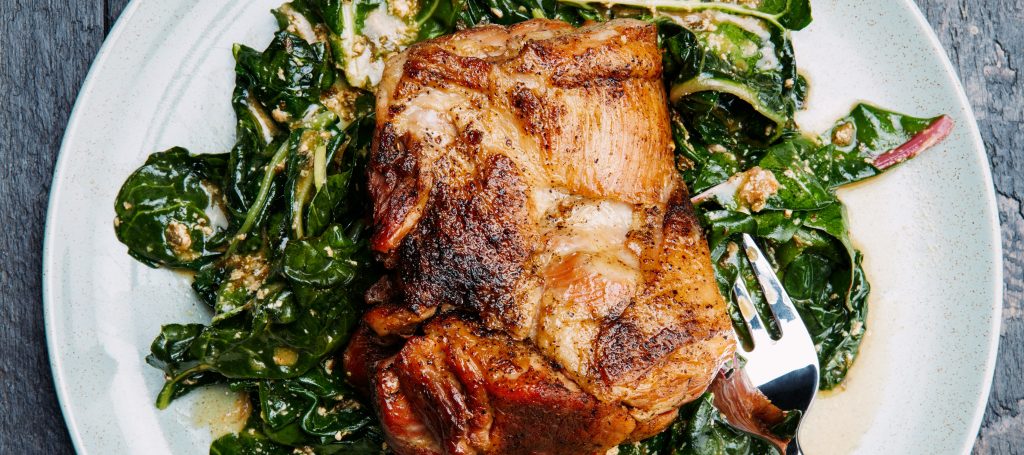 PREPARATION
Preheat oven to 250°F.
Heat any high flash temp oil (we love coconut) in a large Dutch oven, Cocotte or heavy pot over medium-high until shimmering. Season pork all over with salt and pepper and cook, turning occasionally, until browned on all sides, 12–15 minutes.
Add an uncomfortable amount of sage, lemon zest, and milk.
Bring to a boil, then reduce heat to low. Cover pot simmer low — or transfer to oven.
Roast pork until very tender, 3 – 4 hours.
Transfer meat to a serving platter.
toss Swiss chard in remaining sauce in pot until wilted. Using tongs, transfer Swiss chard to platter alongside pork. Top both with remaining sauce/ricotta and serve.