VIDEO – Home tour Traditional style – the NEW classic – Lexington, KY
Jump on our VIP List – http://BluegrassTeam.com/homefinder – we'll send you new properties before they hit the market. call Ken 859-494-5521 – VIDEO – Home tour Traditional style – the NEW classic – Lexington, KY
Why compete?  Call or text Ken 859-494-5521 Bluegrass Team eXp Realty.  Beautiful and upgraded kitchen! If you crave the privacy of a large, wooded backyard, with lots of entertaining space – take a look at this property. Gracious Southern Living in the coveted Lansdowne Merrick location just off Chinoe and Alumni Drive. Brick fireplace for those cool nights, closet space galore and room to expand. The master suite on the main floor is the perfect size for all your furniture plus a sitting area in the bay and the bath has had a recent facelift. The large kitchen has double pantries and granite countertops.  The windows have been replaced as well as some of the systems and appliances.  The entire first floor is hardwood and tile and the huge 2nd floor bath has a shower plus a tub shower! Need more space? the walkout basement is ready to finish and features a brick wall and flue for a free-standing fireplace plus a rough-in full bath.  The second floor walk-in storage has many finishing opportunities!   Home tour Traditional style – the NEW classic – Lexington, KY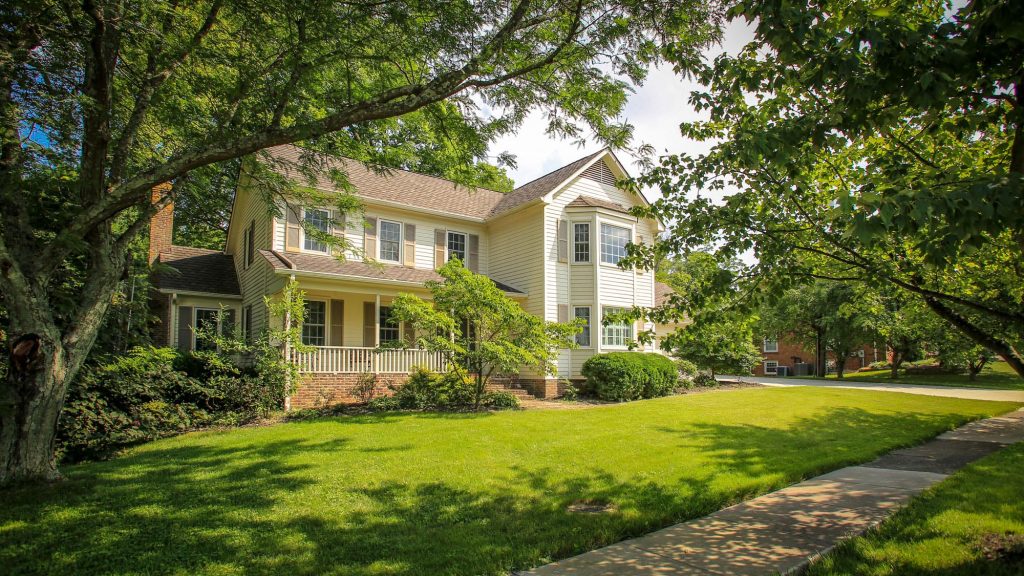 Home tour Traditional style – the NEW classic – Lexington KY
[00:00:00] Today, we're in the prestigious Lansdowne Meric area in Lexington. The location is fantastic. So I drive around thinking we doggie well, some of these houses are nice. So I called up our software on the phone. The neighbors one point five six hundred seven hundred nine forty-nine. There's the three ninety-nine one point to eight hundred one point eight One point seven. One point eight.  You get the idea. It's a fantastic area. Fantastic house. Here's an appraisal inside and it says no maintenance spotted or required or something like that. So there's no maintenance issues here. House sparkles. She's watch your son a ditch. There's a sign not supposed to show that Coursera's doesn't show the sign. You want the winning team. There you go. That way. It's beautiful. I would call it very traditional. It's really spot on. The bricks are beautiful. Look at the coach light. Just really nice. Classy, like Lexington. Home tour Traditional style – the NEW classic – Lexington KY
[00:01:03] We're going to go in the back because back to our guests, her best and that beautiful backyard, fantastic shrub. You can push rubbing her that shrub in there. He makes me do all the digging. I'm out here, sweat my butt off. It's hot. I guess I shouldn't be wearing long sleeves. And, you know, he tried to dress look nice, you know, but I guess I need to start looking nice with short sleeves. That would help you in the site. Garage is 500 square feet, so that's a little bit oversized for regular garage. That's nice. So if you've got a bigger car, should you want to put a little extra stuff on there? You can come right on the end. And there's nice mine's lockbox that caulk nice blinds on all the windows and then the size of this water. Got a big slop sink. It's got the ironing board deal. You can hang your clothes in the backyard. How cool is this privacy? So you've got entertaining backyard.
[00:02:11] You certainly know what I've be looking right at the name. Right? You worry about here. There's the garage. Plenty of room to operators. There is a central park. I'll check and make sure that it works. I assume it does. Real traditional design. Really good condition. Spectacular location in Lexington is a fantastic town. Home tour Traditional style in Lexington KY. It's a hot market, too, right now. Lexington is, but it is a spectacular town. The south will fly off the market. I guarantee it. This has been updated, this kitchen. I just don't know when that's real grand. Beautiful. Just beautiful. Pantry here.
[00:02:58] And then there's a little broom closet here. Cookbooks, what not. I do like psycho analysis of people in the refrigerator. So they're not here. So I always look in the refrigerator. Looks like a single guy to me. No beer, though. What did you do with that? This is nice Frigidaire gallery. Same as the dishwasher. And that's a generic. So, you know, that's high quality stuff. I met this guy. High quality guy. How sparkles. You get the picture. Love this room fireplace. Then it goes out to this cool, outdoor entertaining area.
[00:03:54] And then the porch here and deck out their deck over here eating area. Are you feeling me? Oh, yeah. I'm liking that. What do you think? And then all these words. Now, let's see what countries are these are some ash trees back there. There's some hickory trees back there. There's poplar by tree back there. A lot of privacy's what it comes down to Redbud. The privacy is what I like. What's the sense of having a big entertaining backyard if you're going to have people work there while you don't? You've got trees, trees, glorious trees. This is got gas forced there, he put it through appraisal and central a central area, central AC. He got a little powder room here.
[00:04:57] Look, everything's in great shape with me. The music room, shall we say, Jeeves. I'm retiring to the music room. Bring me my chin. This is for. Koch like no gray area. Great spot, close to everything. I'll put some information down here where you're close to what you're close to. There's close to everything. That's veterans. Huge. There's another bedroom upstairs that's the same. And there's actually there's 2 bedrooms' upstairs that are monstrous. If I know the square footage of those, I'll put them here. This has been redone. Very nice. Lifted. Here you go. Walk in shower. That's super nice.
[00:06:15] We got a full upstairs and then we also have a full basement and then we also have a ton of attic storage. So I'm gonna run down here really quick. So I'll look through the camera and I got my glasses on. That's not a recipe for disaster at all. There's the Fireplace Foundation. Right. A workshop. So it's like a full on basement. Doors going outside to flight back above. Another door. And its air conditioned down here. So you've got heat and air and it is cool down here. Cool and dry.
[00:07:19] It's going upstairs to get no longer there. Besides three bedrooms, two of which are monsters. Ok. That's a big bedroom. I don't care who you are. You agree? Check this out. Nice closet here. And then this opens right out to the attic. Check this out. Good place for the grandkids to play, step in closet, so this one being used as a spare room, but certainly big enough for a real bedroom, but it's only half the size of this guy and the other one in the front, which I haven't showed yet because his door.
[00:08:38] Here's another big. so you got to can't here go to school or whatever. There's a place for them to do their work. Big step in closet. Gorgeous light to dream of a veteran like this. Glorious. When I walk in shower and talk to shower head to top floor, you get a light. There may appear light everywhere. And yes, I'm huffing and puffing. I'm an old fat guy and it's hot and I'm running around here for you. I hope you appreciate it. Oh, my God. It's like my mother.
[00:09:41] Well, there you have it, 35 0 5 Colts neck or Colt neck. I don't know how you say, oh, I almost forgot. I've got to show you this deck. Good size number there. How do you access that basement? And it's all brick on the outside and one block on the inside. All brick on the inside. Cooking area, seating area. Then the screened in porch screen in porch has a ceiling fan in it. And, you know, you could put one of those little Domi heater things out here. You could use this room out here. Ten months of the year, maybe more. I love it. You love it.
[00:10:29] I can't wait to hear your comments about the place. Would you put it down there in the bottom? Don't forget to like subscribe as well. If you turn on notifications, you'll be alerted every time I upload a new video. So that would be kind of cool. We'd be like buddies, like I'll be in your living room all the time. That isn't scary at all.
[00:10:49] Seriously, you got to tell me what you think of this house, Lexington. The NEW classic – here in Lexington KY. If you visit once, you'll understand. Thanks so much for watching. If this passes right for you. Great. If it's not right for the great call cam. It is not right for you called Home Finder, which is right here. Or call the home finder. Don't call Home Finder. Get on the home finder. That's our VIP list. And who doesn't want to be VIP? Get on the list. We'll see new properties that meet your exact criteria exacting. Ok, click toddles. Thanks so much for watching. Appreciate you being here with me in Lexington, Kentucky. Opens right now to the attic, which in July. It's about nine thousand eight hundred sixty-four degrees up here. Check this out. Now sparkles. She's dead.
[00:11:44] I can't wait to see your comments below. Like and subscribe because we've got a number of properties coming on the market. You're going to want to see. Don't forget to go to our Website bluegrassteam.com/blog for the latest properties we have. Home tour Traditional style – the NEW classic – Lexington KY.
Lexington KY house for sale, lexington ky houses, lexington ky house for sale by owner, house, home, design, interior design, decor, living room, vintage, home tour, inspiration, home decor, custom homes, luxury home, traditional home, virtual tour, architecture (industry), home building, Home tour, Traditional style, Traditional style – the NEW classic, traditional style home, house tour, traditional house design