Bring your golf cart to this Kentucky Country Home in a Golf Course Community.  Stanford, KY is located between Lexington, KY and Lake Cumberland.  All the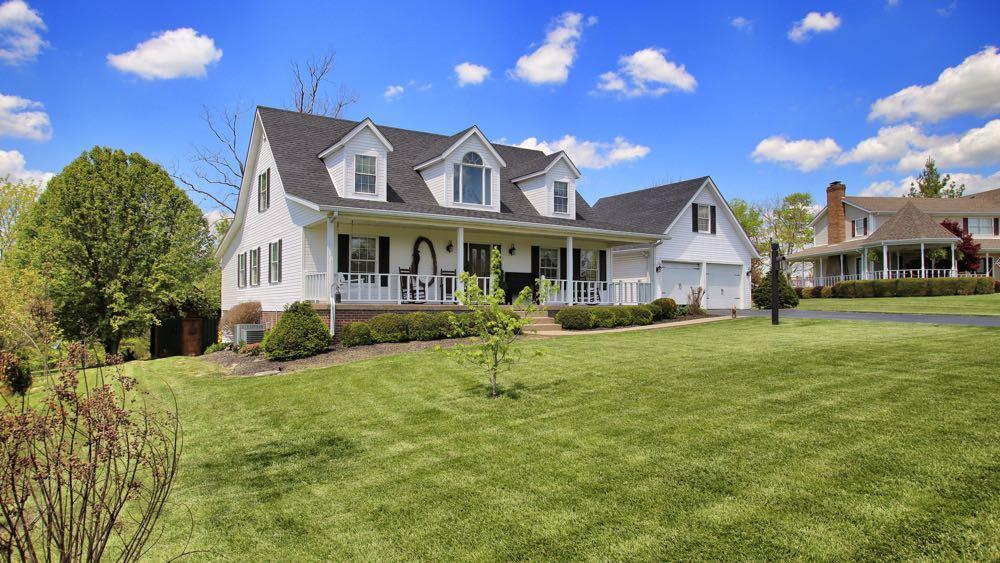 shopping, medical and recreational stuff you need — and on Dix River Country Club Golf Course.  You are about 2 blocks off the fairway here.  Full finished, walk-out basement, 2 car garage, screened in porch and a pool. Decorated well – well taken care of and I hope you love it as much as I do.  Call or text – 859-379-5263 VIDEO of Kentucky Country Home Golf Course Community.
VIDEO Translation: Being as enthusiastic with all these houses lately you'd think that I love every house, well simply not true, we get some houses that are just okay and we get some houses that are not exciting at all. This is like a triple wow house, okay you're right here in… the highway, I don't know if you can see the highway there, is maybe half mile away, so you just pop on out this road, and the golf course is just right there and it's a very challenging golf course, Dix River Country Club, I'll show you that and I'll put the dues down here too as well, it's just a golf cart ride away, and you pop out to the highway, you're just maybe a mile or two to shopping and make a right, go to Lexington and you make a left you go to Lake Cumberland.
Now of course they've got Cedar Creek Lake here which is about 800 acres and that's going to only be about maybe 15 minutes away, 10 minutes away, so if you had a boat, just pop on out and go on over there.  This Kentucky Country Home in a Golf Course Community is in a great location. This house sits on just under half an acre and it's got over 3,000 square feet total living space which you know it's real popular here in Kentucky to have those walk-out basements, well this has got a walk-out basement and that's all finished and all beautiful, and this house is decorated to within an inch of its life. Wait til I show you inside, you're going to love it, promise, and it's in like perfect condition. You start out here with this pebble-tech steps and porch and you've got a beautiful sitting porch, you can just sit here and just chill out. So this is the East, so in the afternoon you can just sit out here, you'll be in the shade. I know what you're thinking, "Come on Brad, enough jibber jabbering, let's go on inside." So this house is so well taken care of and so nicely decorated it's going to be hard for you to look objectively at the house, the house has got great bones, you're going to be looking at the decor and thinking "Oh my gosh these people love this house…" You can see the love, I'm not trying to be corny but when you see a property that's taken care of like this, decorated like this you know that it's got a lot of love. …ready for the dining room, how bad is that huh? Bad in a good way. You got this beautiful island here and lots and lots and lots of cabinets. So here you've got oak cabinets with the dark trim, and here you've got dark cabinets, so I love the accent stuff, and then you've got the island which is a country-barn red. Some of you already know that I used to be a photographer for decorator magazines, well this is exactly the house that we would dec… we would photograph…homes that are decorated like this. Lots of nice line-of-sight, if you're into architecture, you got a nice line-of-sight here, so you're in here cooking…wall oven here…you're in here cooking and you can see your guests, you can see the TV et cetera, et cetera…and another oven there. This is a suite area, absolutely love this, so you grab your coffee, sit here in the morning, oh yeah. That's the nicest laundry room I've been in a long time. Now check this out, you got another room here, so this is where you come in out of the garage…so you got the garage here, and then right out here to the pool, then you come in here, I don't want to call it the mud room but I don't know what else you would call it, a place to sit down and take off your boots? A lot of nice things I want to show you in this house, course the living room with the balcony is pretty nice.   This is the door down to the basement. You got gas logs here down in the fireplace, and if you notice this door here is open, it's ajar because that is outside living space, wait til you see that. Look at the photographs, look at the big pictures on our website, on our landing pages, the link will be underneath here, so if you scroll down below the video you'll see the very first link takes you to our website and that's where you're going to see all those photographs, and they're going to be really big, of course the walk-through videos what people like for sure. Double vanity sink here…and that's your bath. Look how nice this is, you know that's a real nice door…and then a big walk-in here, hardwood floors in the walk-in, a lot of nice little touches in this house that makes the difference. Master suite, another big closet here, and this…just this sitting room here, you need to get away from it all, you're here, and then the cabin, so it's got like log wallpaper here, which is really cool, makes it feel like you're in a cabin. Access to right outside and the pool…there's your outer space, the outside living area, wait til you see that, just beautiful, there's a little peek. Oh one thing I wanted to show you before I get too far, there's a half bath here, look how nice is this? And of course decorated tremendously, so well taken care of. Let's go on outside, let me show you the amazing porch on this Kentucky Country Home in a Golf Course Community. Seriously, all screened in, I can tell you I would have every Summer…Spring, Summer and Fall meal out here, every meal, oh my gosh, can you imagine the whole family here, the grandkids running in and out? A little grill, and then the pool. Now remember the garage and then that little room, that's where there's a door, comes right on out, so this is the laundry room right here…and the lot is just beautiful. I'm going to go out there…and you can see the little potting shed, love that. Again you'll see all the big photographs on our website, bluegrassteam.com, just click on over, check them out. Let's go on upstairs, I'll show you all the stuff going on up there. You could not build this house for what they're asking, you've got 36 hundred square feet of living space…another full bath…big bedroom up here, closet…these dormers are so pretty on the outside and so much nice space on the inside. There's the fireplace. Second bedroom up here, fun little hideaway, wouldn't it be nice to be a kid again? Just come on up here and just do your thing. Okay, so you got three bedrooms, two full and two half baths. Okay I'll take you downstairs, another surprise, a wonderful thing about this property, you're going to love this house…well I mean you've got four foot wide steps here so it's nice and relaxed coming in, when you get those tiny steps you know you're about to get anxiety walking down the steps, it's so tiny. So…you got poured walls, and it's just a basement …oh my gosh, what great living space down here, and tell you truth I would do exactly the same thing these folks are doing, you got a place for the kids to hang out, fusball pool, oh my gosh, tons of storage, look at this, shelves everywhere…tons of storage, and then she's just got linen, this is just duct, like painter's cloths hanging here, it looks cute as a button and serves a real purpose. How fun is this? You got your freezer down here, floor drains in case anything whatever happens, you got to think about his stuff, it's all been thought out for you, and it's dry as a bone, you'll be able to smell any kind of muskiness…no muskiness. So she's got her selling area over here and then big closet here, and then he…I'm sure it's shared, I'm being all sexist on you now, she and he, but he's got, or they've got their office on this side. So a Dutch door, how cool is that? Now who couldn't have a home office down here? You got high speed, you got FedEx, you got UPS….here's another half bath, and there's…it's like a laminar or something down here, so that's real nice and easy to take care of. Let's go on outside…I was out here earlier and I locked up. Oh my gosh, what a cool use of space, so it's just a little wing wall and just space under here, but oh my gosh look what they did with it. Stamped concrete, a place for the golf cart, a little seating area, and this shed, oh my gosh. If they come home one day and they find that potting shed missing, they're going to come and need to look at my house because that's where it's going to be, is that the cutest thing you've ever seen or what? What would you use it for? Tell me in the comments down below, I like the feedback, I really do. What would you use that for? So there's your space there, absolutely a party place, if it's going to rain, you're having a party and it's going to rain, you got a party spot up here, you got a party spot down there and then there's a beautiful near half an acre, it's like .45 Dan tells me. You got chimenea thing going on back here…you got the pool, oh my gosh, and then my potting shed, we'll call that Brad's Potting Shed, better not, they'll really think I'm serious or something, they'll be like bolting it down to the ground like "That guy was really nice but he freaked me out cause he really liked that potting shed!" Anyway here's…here's the back of the house, here's the back of the property, and of course you have a…just a really messy neighbor…only kidding, only kidding! Look at the place, all of the houses are like this, and isn't that where you want to live? Don't you want to live with like-minded people, people who take really good care of their places? Of course you do, keeps your property value up. Told you you were going to like this. You want first crack at these properties? Make sure to fill your email address here, click, they'll take you to the home finder, you'll be on our exclusive buyer's list, first chance, sneak peek, whatever you want to call it, but you'll get notification of properties just like this one before the MLS, before the general public, and you'll have first crack at coming in, taking a look, doing a site visit and making an offer on this Kentucky Country Home in a Golf Course Community. Thanks for watching as always, Ciao for now. END You might want to get you in our Exclusive Mailing List, so we can send you your PERFECT homes and land – and farms the second they are for sale (not when they hit the MLS). go to "Your Perfect Property" at https://bluegrassteam.com/homefinder/ – it only takes a few seconds to fill out your needs and wants and we will start sending you properties that meet YOUR criteria. You'll be 1st to know about properties – It's like a sneak peek – before they hit the market – sent right to your inbox. #EarlyAmerican #Primitive #ColonialStyle #antiques #Amerciana
go to "Your Perfect Property" at  https://bluegrassteam.com/homefinder/ – it only takes a few seconds to fill out your needs and wants and we will start sending you properties that meet YOUR criteria.
You'll be 1st to know about properties – It's like a sneak peek – before they hit the market – sent right to your inbox.